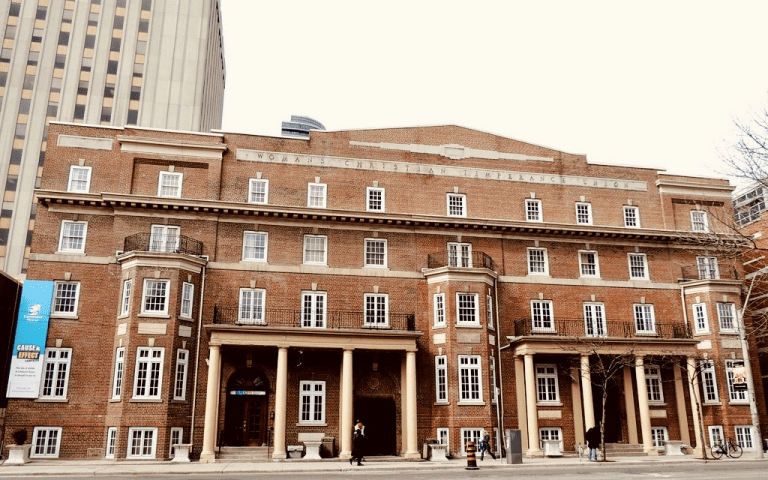 40 Years of Transforming Lives
When Covenant House Toronto opened its doors in 1982, its shelter program was called "Under 21" and offered 30 beds to young people experiencing homelessness. Over the last 40 years, Covenant House Toronto has provided programs and care for over 100,000 youth. In this time, the services and facilities have expanded to support the changing needs of the young people in our community.
In acknowledgement of our 40th anniversary in February, the City of Toronto has proclaimed March 1, 2022 Covenant House Day. Today, as we mark this important milestone, we celebrate how far we've come throughout our history, and the community support that has enabled us to help transform the life of at-risk youth.
Our 40 Year Story
Since the day we first opened our doors in February 1982, Covenant House Toronto has offered opportunity and hope to  thousands of young people. The youth who come to us are often experiencing neglect, abuse and family breakdown. They may also be struggling with mental health and addiction issues. Through the years, we have taken significant strides to enhance our services in recognition of the evolving needs of youth, to help them achieve a brighter future.
While originating as simply a shelter, in 1987 we began working to through our On The Street outreach program and prevention-focused school presentations. In working with youth, we saw that many had their schooling or employment interrupted due to the challenges they faced. Through this, we saw a need for greater skill development that would allow youth to build upon their natural talents and abilities, while also developing new skills to aid in future success. We realized this vision in 1996 with the launch of our life skills program, followed by the Ticket to Life workplace skills training program in 2000.
As we enhanced our programming, we likewise expanded our facilities to be able to offer greater capacity, as well as on-site educational and vocational services. In 2002, we opened our CIBC Rights of Passage program, which gives young people the opportunity to learn and practice life skills before they move out on their own. This program remains a cornerstone of our services to this day.
We have continued our dedication to providing youth with important skills and opportunities by:
Adding a rooftop garden in 2008
Opening the Youth in Transition program in 2010
Launching our Cooking for Life program in 2011
Launching our Mentorship programs in 2013
As we continued to offer youth in crisis shelter and support, we also recognized the growing issue of sex trafficking in Canada, and the lack of community supports for victims. In 2016, we increased our support of with the opening of the Rogers Home, a transitional home for victims which provides safe shelter, in-house mentoring and skills development. That same year, we also implemented our extensive anti-trafficking plan, as well as our hotel industry training program to spot and report trafficking in hotels. Today, our programming is focused on a customized approach to meet the varied needs of youth.
The Way Forward
While we've come a long way, there's still much more to do.
This year, Covenant House Toronto will be developing its strategic plan for the next five years. This is an opportunity to look to the future not only of the agency itself, but also what we want the future to be for the youth who engage with our services and the broader society we all live in.
By reflecting on the last 40 years, we hope to bring the agency's experience and the voices of those impacted by our work into our future.
Learn how you can be part of that future.